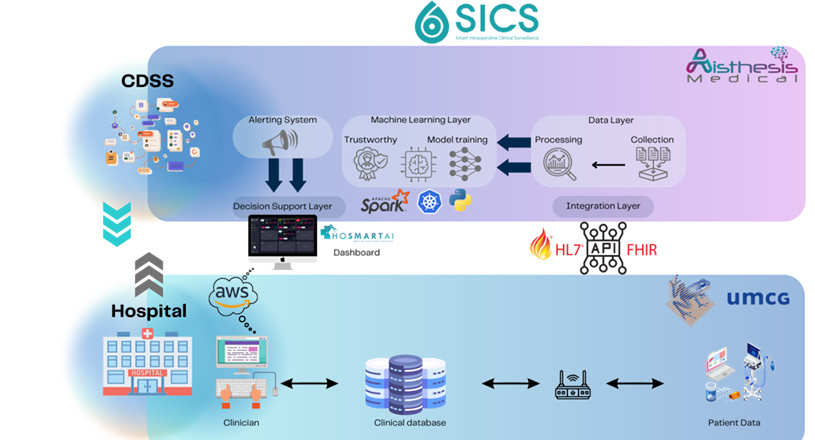 Larissa, GR - March 18, 2023
Aisthesis Medical's Project "Smart Intraoperative Clinical Surveillance (SICS)" Secures Funding from HosmartAI H2020 Project
Aisthesis Medical is thrilled to announce the selection of its ground-breaking project proposal, "Smart Intraoperative Clinical Surveillance (SICS)", for funding by the esteemed HosmartAI H2020 project. This pivotal support stands as a testament to our commitment to innovating healthcare and pushes us one step closer to our goals.
The SICS initiative is centred around enhancing the intraoperative clinical decision-making process. With this funding, we aim to progress further in developing and clinically validating our state-of-the-art decision-support system. This system is meticulously designed to bolster the decision-making abilities of anaesthesiologists, ensuring utmost precision and safety during surgical procedures.
"We believe that the integration of AI in healthcare, especially in intricate domains like anaesthesia, can profoundly improve patient outcomes. SICS is a beacon of this vision," commented Ioannis Gkouzionis, CEO of Aisthesis Medical.
We're not in this alone. A heartfelt acknowledgment goes out to our clinical partners from the University Medical Center Groningen. Their expertise and dedication are vital in navigating the complexities of clinical validations and pilot studies.
Stay connected with our News section for continuous updates on SICS and our other ventures. Together, with the combined forces of technology and clinical expertise, we envision a future where surgical interventions are safer and more efficient than ever.